Map, monitor & prevent disruptions
We reduce supply disruptions for
acute & non-acute care providers
academic medical centers
distributors
manufacturers
material suppliers
pediatric & community hospitals
90
%
of US News and World Report best hospitals
5000
hospitals and health systems
27
%
of largest semiconductor manufacturers
Healthcare organizations collaborate to cut supply disruptions. Learn how
When a key supplier suffers a disruption,
it's already too late.
Sudden disruption of critical suppliers inflicts
long-lasting damage to your reputation,
performance, and customer commitments.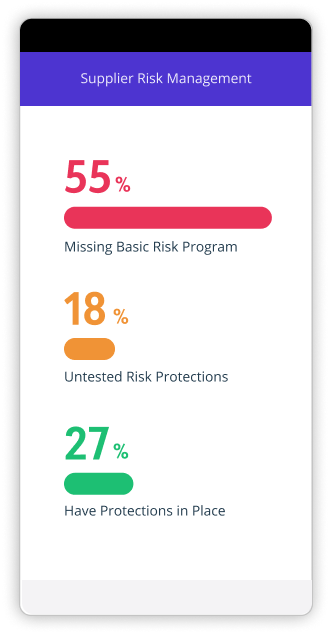 Getting suppliers to improve risk management is a massive challenge
Disruption risks reside at supplier sites.
Only suppliers can address them.
Buffer stock, multi-sourcing, and contingency plans partially reduce impact.
They do nothing to prevent disruptions.
Use Prevention to Get
Ahead of Risks
SRS cloud-based software automates supply risk mapping, monitoring and prevention. Imagine suppliers protecting you by implementing specific protections proven to cut 60% of production disruptions.
Lead your organization to better performance through risk prevention.